Legacy Arts and Film Lab founded the Lake International PanAfrican Film Festival(LIPFF) in 2016, due to the gap in Festivals for Films in African Languages
Lake International Pan-African Film Festival 7TH Edition LIPFF
2nd to 5th November 2022
FESTIVAL THEME:   Film for Peace
FESTIVAL VENUE  Nakuru County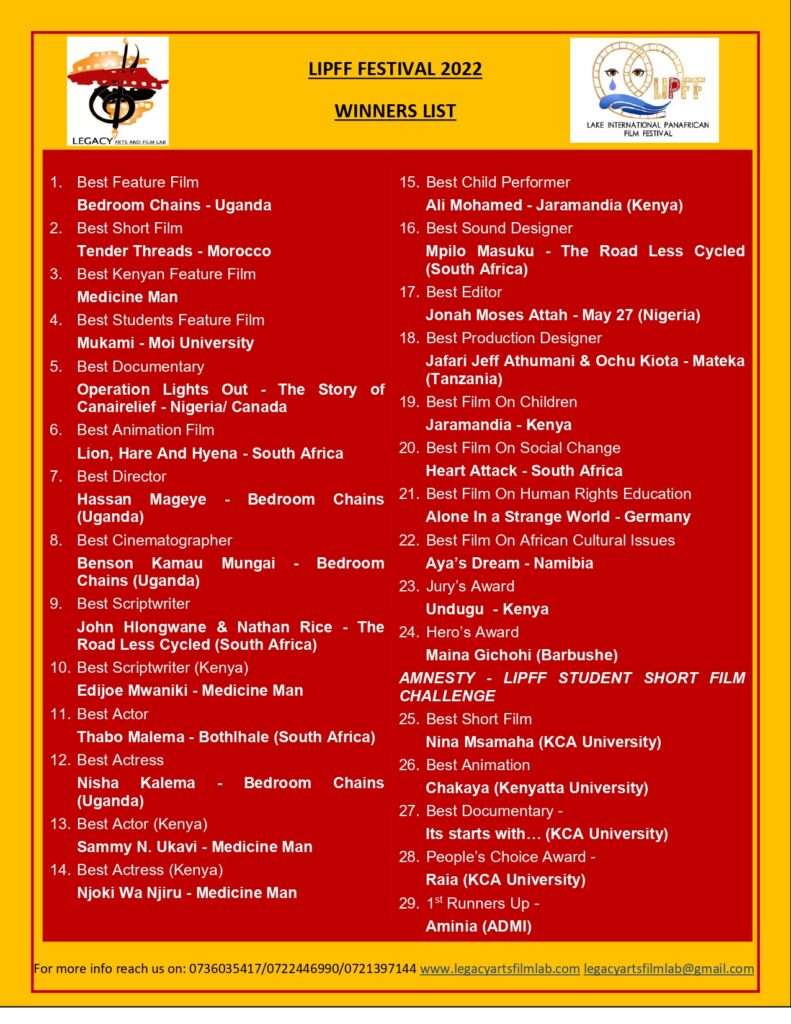 LIPFF BACKGROUND
Lake International PanAfrican Film Festival 2021 was open to submissions in any African Languages with English Subtitles made in Africa.
HISTORY
The festival accepted feature films, student feature films, short films, documentaries and animation films. It does not accept TV/web Series. LIPFF 2021 introduced a minimal submission fee specifically to help sieve the professional filmmakers. This helped reduce the bulk of films and sieve quality films into the Festival.  LIPFF 2017-2020 has in the past attracted over 2000 entries from all over the Globe with at least half of the submissions from Africa, and at least 50 from Kenya. The year 2020 and 2021 have been very challenging years. The COVID 19 pandemic brought about by the novel Corona virus saw the government institute curfews and lockdowns in a bid to curtail the virus. This greatly affected the artistic space. In a bid to conform to set government directives of no public gatherings, LIPFF held most of its festival activities online. Despite the changes and challenges, LIPFF witnessed a large number of people access the various activities online. LIPFF wishes to thank everyone who stood with us in this journey.
Of these, 15 African countries made it to the nominees list i.e. South Africa, Uganda, Nigeria, Kenya, Tanzania, Senegal, Morocco, Burkina Faso, Ghana, Zambia, Algeria, Egypt, Rwanda, Tunisia, and the Democratic Republic of Congo. We had physical representation from South Africa even as travel between countries was greatly hampered by the COVID 19 pandemic.
FESTIVAL ACTIVITIES
The festival will have 7 main activities: film screenings, film workshops, panel discussions, thematic open forums, student short film challenge, exhibitions and the Gala Awards Ceremony.
a.)   Film Screenings:
There will be three (3) days of public film screenings in Nakuru County. The screenings will be free and open to all audiences in attendance. We will have 3 screening venues, for the public, for students in higher learning and for children at an agreed venue. The screening for children are specific for young children below the age of 13. This is to help create a cinema culture in the children by enabling them to watch their age appropriate films.
b.)   Film Workshop:
There will be at least 2 film workshops, during the 3 days.  Each workshop will have a limited number of participants who must pre-register for the workshop. It is our wish to have a film produced post Festival and be shown the following year, if we get funding for the same. This will help in ensuring a more practical evaluation approach towards the Festival workshops. The workshops will be on:
1.Film Financing - fund raising, grant writing, pitching, management, taxes, revenue & profits.
2.Production Design – this will include Set design, props management, film colour codes etc.
3.Kids Film Acting Workshop – This will be in collaboration with the Nakuru Kids Club at Hyrax Hill Museum.
c.)  Panel Discussion:
There will be 3 panel discussions with local and international stakeholders in the film industry as panelists. The panelists will be selected from the government agencies, civil society, private companies, film organizations and independent film makers. The panel discussions will be held physically but will also be streamed virtually for the wider audience.
2nd November 2022  "The state of the film industry post COVID 19"
  (Government and Industry Stakeholders)
3rd November 2022  "Financing for the Film Sector"
  (Financial and other relevant Institutions)
4th November 2022   "Film as a tool for peace"
  (Industry Stakeholders)
4th November 2022   "Monetizing Digital Content"
  (Students and Youth)
d.)  Open Forums:
This is a forum where a stakeholder or sponsor who is interested in sharing their work, initiatives and collaboration avenues, gets to have a session to share with the filmmakers/audience on what they do so as to be able to initiate personalized dialogue and projects. It is a daily session where every speaker gets 30minutes of sharing and Q&A with the audience. This session will be both virtual and physical.
e.)   Gala Awards:
The Gala Awards will take place on the evening of Saturday 5th November 2022 in Nakuru on an invite only red carpet event. This will also be streamed online. The winners and best films will be awarded at this event.
f.)  Student Short Film Challenge:
We shall have a Student's phone film challenge launched in July, with submissions closing by end of September to allow for nominations and voting by audience. This shall be for short Films only, and the participating students must be registered in their respective institutions. The theme for this year's challenge is Filamu na Amani!
g.)  Excursions
This year, we shall have an online physical and online excursion experiences, sharing the films of our National Parks. We shall also have discounted rates for those who would love to visit the Nairobi National Park and the Nakuru National Park (Of course while observing the government procedures on COVID-19 Pandemic.)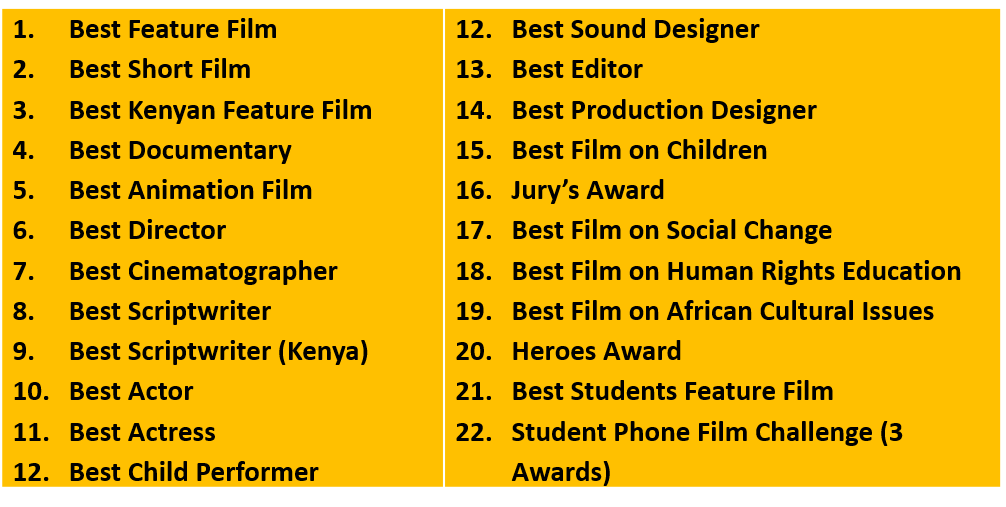 We believe that African stories need to be told in African Languages as authentic as can be. The Festival has various activities from film screenings, workshops, panel discussions, Open forums, local tourism and the Gala Awards Ceremony.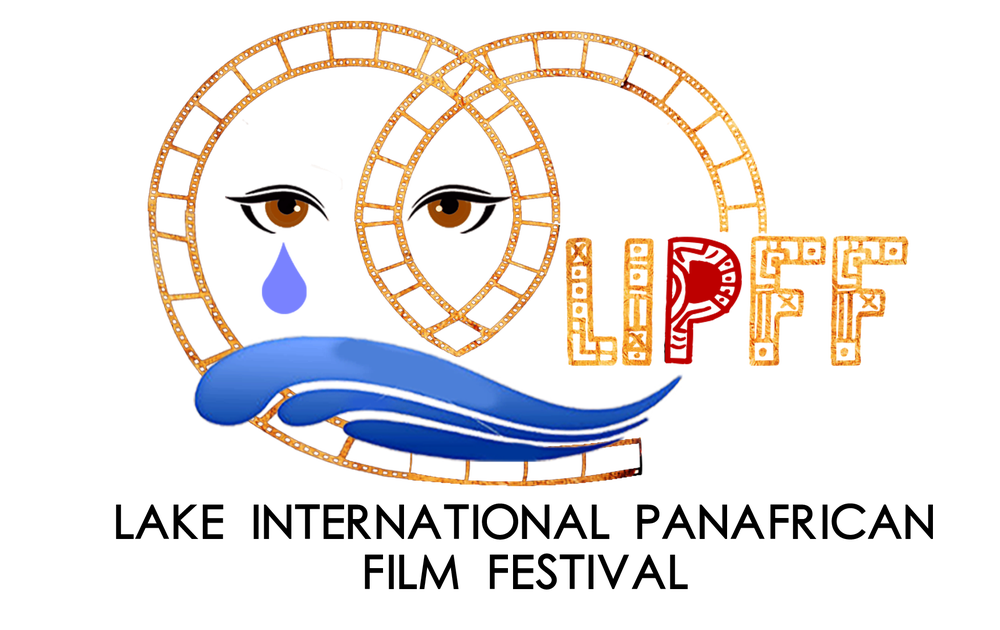 The Lake International PanAfrican Film Festival(LIPFF)
The annual Lake International PanAfrican Film Festival (LIPFF) is a film festival that aims at bringing filmmakers together and opening up the region to reap the benefits of tourism, intellectual and cultural exchange, while increasing the African cinematic experience by taking African language films to the people. The Festival is hosted by Legacy Arts and Film Lab (K) Ltd. Festival Director is Dr. Zippora Okoth and Festival Coordinator Ms Suki Wanza. Below are the objectives of the festivals: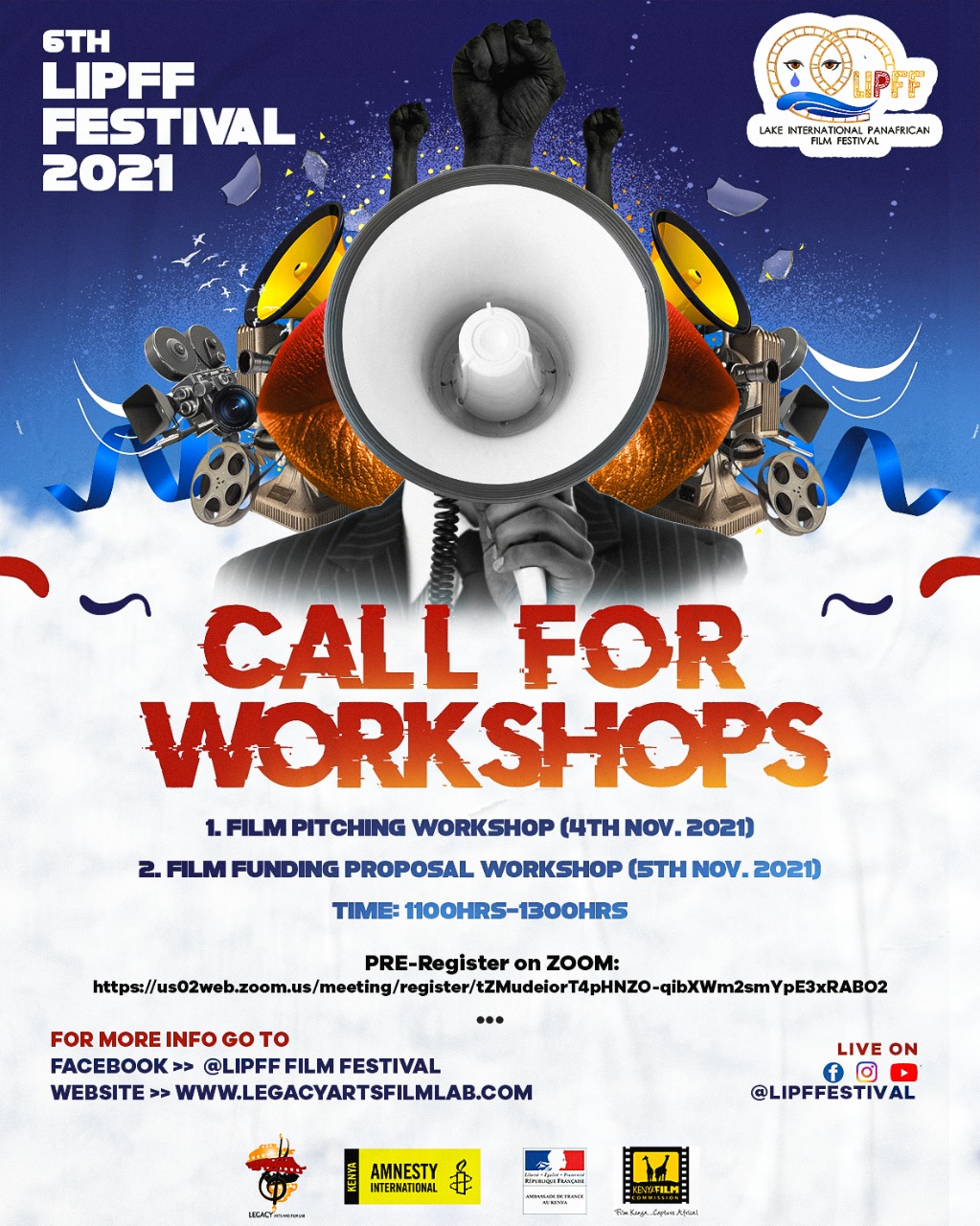 FILM PITCHING WORKSHOP (4th Nov. 2021)
FILM FUNDING PROPOSAL WORKSHOP (5th Nov. 2021)
This is the 6th Annual Lake International PanAfrican Film Festival taking place from 3rd-6th November 2021 both virtually and physically. This year our Theme is 'Disrupt the Narrative' and we have various activities from Panel Discussions, Workshops, Open Forums, Screenings and Gala Awards Ceremony. 
TIME: 1100HRS-1300HRS
Register in advance for this meeting
The 6th Edition of the Lake International PanAfrican Film Festival
The 6th Edition of the Lake International PanAfrican Film Festival is here. We will have a virtual deeply interactive and engaging Festival coz we have to, and we must DISRUPT THE NARRATIVE.
Please keep it here, like our Facebook page and our YouTube page so as not to miss any of our great lineup in November. Thanks to our partners and of course YOU, the filmmaker who keep us motivated to create this amazing space at the LIPFF Festival.
Check out the call for the Workshops and book your slots in time for the master classes. You know our master classes are always in-depth like no other…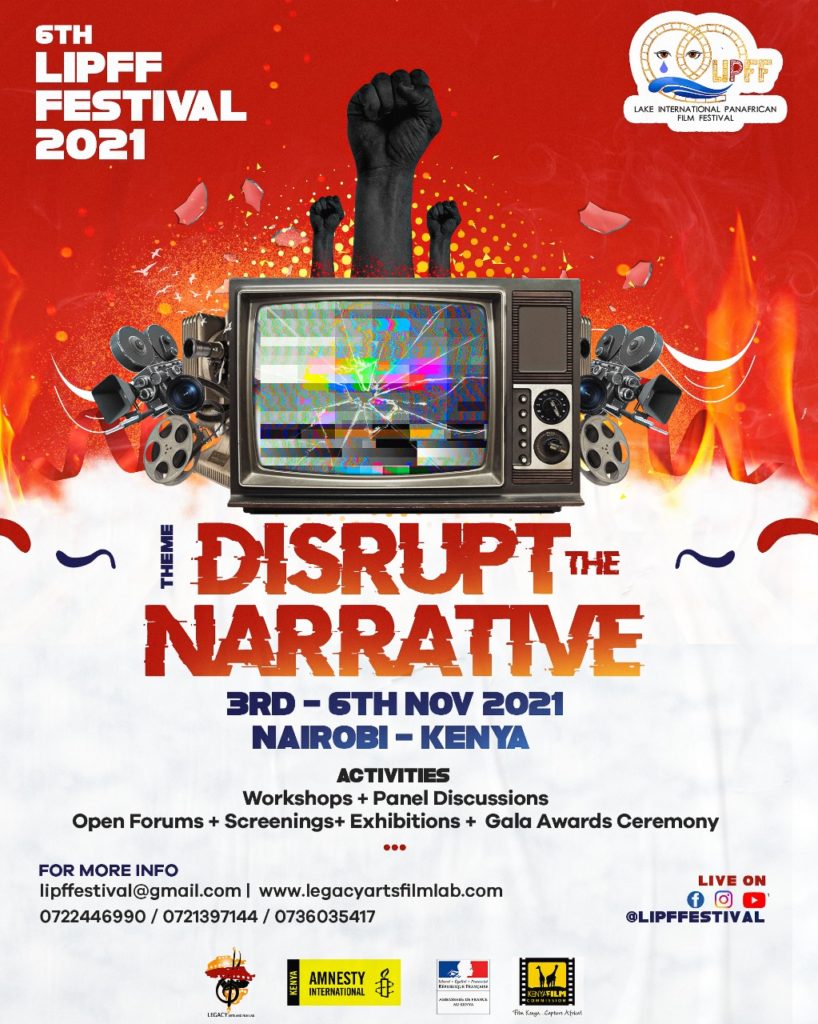 LAKE INTERNATIONAL PAN-AFRICAN FILM FESTIVAL (LIPFF) 2021 JURY PROFILES
It has been 5 years since we held our first Festival and we have given out more than 150 awards.
All the events are free to attend except for the workshop which one has to register in advance, at no fee, and the gala awards ceremony which is an invite only event. The LIPFF Festival takes place every first week of November from Wednesday to Saturday in Kenya.
In 2020 due to the Pandemic, we had an online Festival which was highly attended online on our Facebook and Youtube Pages @LIPFFESTIVAL.
As we move into the next years, we plan to have a blended Festival with activities both online and physical attendance. As we move into the 6th edition, we plan to make LIPFF the Festival of Choice of African Language Films. For more info on the festival check our social media pages. Application for LIPFF 2021 is ongoing. Click the butto below to apply www.filmfreeway.com/lipffestival.
We received over 1000 of entries all over Africa for the film festival. 
The festival was help at Nakuru Player Centre and the attendance was amazing with entries from 10 different countries including Nigeria, Kenya, Uganda, Tanzania, South Africa, Ethiopia, Zimbabwe, Zambia, Burkina Faso, and Cameroon. 
LIPFF is well known for the best film festival in Africa. It is the pride of our continent. 
LIPFF is one of those unique festivals for films in African languages and we should continue telling the African story!!!
LIPFF is doing a good job on going virtual and reaching a greater population through their virtual panel discussions and Open Forum Session